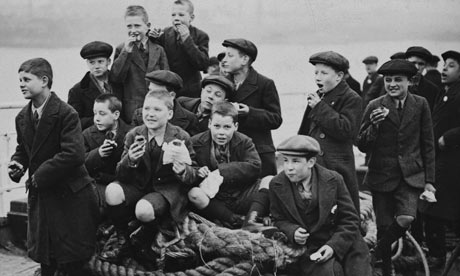 World news spotlighted another heartbreaking story of child immigration this week. Australian Prime Minister Kevin Rudd apologized to thousands of British who were shipped to Australia as children. They were promised a better life; instead, they had a Dickensian existence.
More than 500,000 children were placed in foster homes, orphanages and other institutions during the 20th century, according to a 2004 Australian Senate report. Many experienced emotional, physical and sexual abuse.
"We are sorry," Rudd said. "Sorry that as children you were taken from your families and placed in institutions where so often you were abused. Sorry for the physical suffering, the emotional starvation and the cold absence of love, of tenderness, of care. Sorry for the tragedy — the absolute tragedy — of childhoods lost."
Children fleeing Nazi Germany for America during the 1930s (like my mother who was sent to live with relatives in Chicago) generally fared better. Most of the American families who took in children were "decent," according to the book, Don't Wave Goodbye: The Children's Flight From Nazi Persecution to American Freedom by Philip K. Jason and Iris Posner. But, Posner writes, "some (families) wanted children to act as companions to their own children, and there were a few who wanted the children to act as servants and maids." Child welfare organizations tried to weed out families with dubious motives, but they weren't always successful.
Some of the "One Thousand Children" experienced the same "cold absence of love" as the Forgotten Children. One man said that after he left Germany, no one ever hugged him again throughout his childhood.
Some lost their ability to trust. "What I think happened to me early on was that a subconscious wall went up," wrote rock 'n roll producer Bill Graham, who was one of the One Thousand Children. "'I'm out here on my own. I don't have anybody.' An island that I've lived on all my life. I knew I had to fend for myself and be careful not to let anything too close for fear of losing it again…Early on, this coat was formed…I've always been prepared for loss. And therefore was never left totally naked."
In a way, they were all forgotten children who lost their childhoods.